OG KUSH – Bearly Legal THC-O Vape Tank
Bearly Legal has just gotten much better! Introducing our new line of THC-O Vapes. Our THC-O is 100% Hemp-Derived and much like Delta-8 delivers an exceptional experience… however THC-O is known to be quite stronger with a much higher potency and a slightly different body and mental effects. So tread lightly!
We've decided to offer some options besides our Ceramic Tanks which we feel truly work the absolute best with Delta-8, or a blend of D8 and THCO. As THC-O-Acetate has a very free-flowing viscosity we have found that the iKrusher CALIBR PRO Tanks tend to deliver a rich and consistent flavor, as do our Ceramic Carts but without any issues of leaking or clogging. Our THCO and iKrusher Calibr Pro Tanks work perfectly together, they are one of the highest quality tanks on the market, and deliver optimal flavor and consistency. You will not be dissapointed!
THC-O Tank Features
Holds 1ml (1 Gram)
iKonic Ceramic Technology
Medical grade Borosilicate glass tank
Lead-Free Copper center rod post
Upgraded mouthpiece design to allow for maximum air-flow
Should be noted that the additional pictures make it appear the base and mouthpiece trim is dark metallic. They are more like a chrome finish in person.
DEPENDING ON THE CARTRIDGE YOU GET, THESE MAY NOT FIT THE POCKET BOX BATTERY.
THC-O FLAVOR, EFFECTS & TERPENE PROFILE:
Terpene & Flavors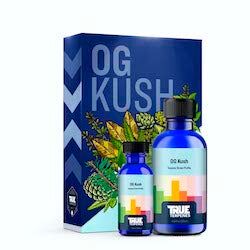 Prominent Terpenes and Flavors
Strain: Hybrid
Fragrant Notes
Fragrance: Earth, pine, wood
Type: Sativa
Effects: Euphoric, Soothing, Heavy Couch-Lock but still uplifting
Note: THCO tends to deliver an Indica like effect that can almost overpower the synergy effects from different terpenes. While this is a Sativa strain… The THCO is very body heavy and super relaxing and it may* (very subjective) outweigh the Sativa effects from the terps. Although everybody is different!
OG KUSH is a terpene blend from none other than TRUE TERPENES. "For years, OG Kush has developed a reputation as one of the industry's finest strains. Adult consumers find immense comfort in the strain with uncertain origins. In addition to its rejuvenating capabilities, OG Kush is one of the more iconic, exquisite smelling strains you can get your hands on. Do yourself a favor and transport yourself into nature with OG Kush. It will start an experience that is almost assuredly going to rank at the top of your list."
THC-O CONTENTS:
95% of Pure THC-O-Acetate Distillate
5% Terpenes
Nothing Else 🙂